Updated on February 9, 2010
Amphawa floating market
We decided to stay in Bangkok for a few extra days because my new local friend, Pom, had invited us to go to Amphawa with her and a few other American girls. I was ecstatic !
Sebastien decided that he wanted to have an alone day. This would be the first day in which we had separated in over 3 months.  It was time we got a day to do our own thing.
It was really nice to hang out with other American girls! Though Pom is not American she is as close to it as a Thai can be! She even had to get Starbucks on our way to Amphawa.
We had a full day in Amphawa.  From eating whatever was offered by the boat market people to searching for swimming monkeys.  The monkey part was tricky and if it wasn't for Pom we would have never found them.  We had to take a long boat out to the ocean and then ask the locals where we could find them.  Our boat driver didn't really know where to look.  The river ride was my favorite.  Seeing the locals in their houses built up over the water.  Very cool!  There were some beautiful homes.  My next favorite was eating these amazing spring rolls.  I had never had such good Thai food in my life!  30 bhat.  Can't beat it!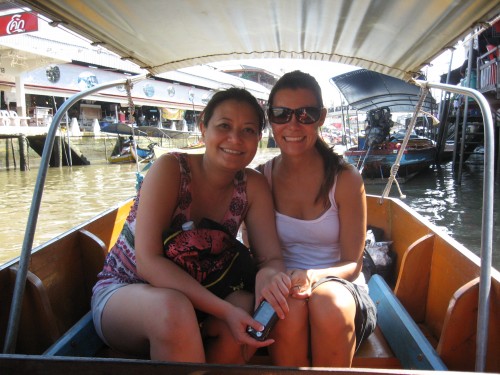 It was one of my top favorite days so far!